My life is defined by books, reading … Africa. Although I was born and schooled in Scotland, only my accent betrays those roots. I have lived and travelled in various parts the continent of Africa for over fifty years, and enjoyed every one of them. These are the landscapes and loves that inform my stories and my memories.
My close involvement with children as director of Children's Book Network, which I co-founded with writers Gcina Mhlophe and Sindiwe Magona, means that I am always in the company of young people, always working with books - a huge privilege.
The word 'workshop' looms ever larger. Many of these are with and for children. Some are for adults who would like to write for young people. All of them are fascinating. Taking a theme and developing it into something of real interest is a hobby as well as part of my writing life.
When I am not writing or working with children, I am reading. A constant flow of books arrives somehow (not always involving me going into a second hand bookshop) and some of them flow out again to uncharted regions. Some of them come home when they are older.
My home is also the home of my friends. A lot of laughter happens here, and storytelling, and listening and – most of all – sharing. The sharing is also done with a beautiful lady Weimaraner. There have been four of them and the latest is ten-year old Milly. Much of the sharing with the dogs has taken place when nobody was watching some item of food. We walk along the river near my house (more talking, more dog). It is enough.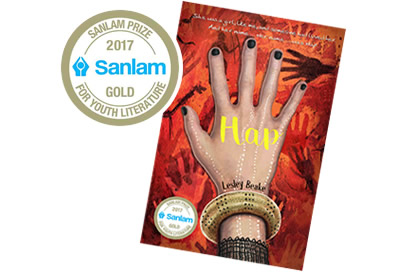 Hap
Hap won Gold at the 2017 Sanlam Awards, celebrating the best in SA youth literature. Described by the judges as 'a well structured and beautifully written coming-of-age story.' In it, a troubled teenager travels from New York to South Africa to spend time with her father on an archaeological site, where she identifies with the fossil of a young woman whom she names Hap.